With QuickLoadz, full sea shipping containers can be picked up and dropped off from ground level in three minutes without any external equipment, without the driver leaving the cab of their truck.
So what? So new things are possible.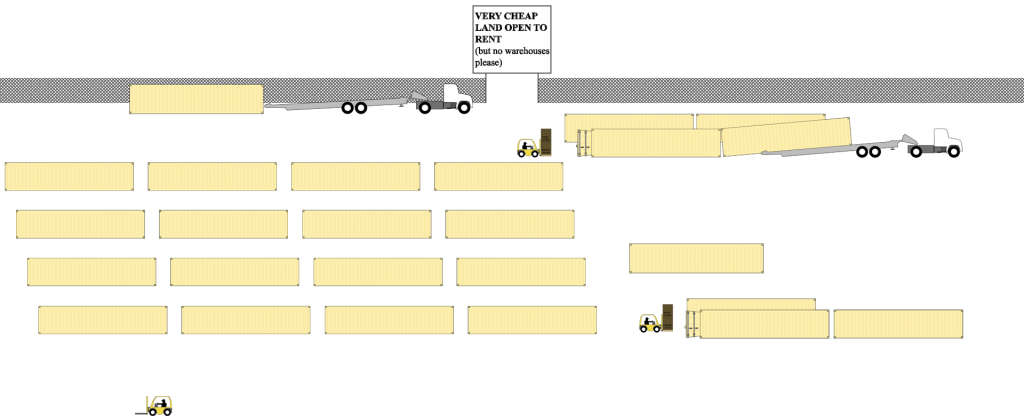 The Pop-up Distribution Center.
Whether Amazon, Walmart, FEMA, a farmer, or a little mom-and-pop manufacturer, if a distribution center is needed either right away or just for a few months in the busy season, with QuickLoadz, a warehouse distribution center can be a parking lot with containers on the ground coming and going.
If the containers full of merchandise are sitting on the ground, they can be loaded or unloaded of merchandise directly with forklifts.
Expensive loading docks aren't needed.
There is no need to constantly shuffle trailers to and from loading docks.
Expensive drivers, trucks, and trailers aren't waiting to be loaded or unloaded.
No need to pay property tax and insurance on warehouse space that isn't needed.
Containers are cheap $3/sq. ft., versus a warehouse at $30/sq. ft.
Containers are a commodity, that can be bought or sold in a couple of hours, as storage needs change.
QuickLoadz does it all.
QuickLoadz quickly drops off loaded containers wherever needed. QuickLoadz picks up loaded containers to send off to stores, or a port, or a rail yard. QuickLoadz works with all conventional freight systems, whether getting a container loaded at a port or backing up to a conventional loading dock to load or unload.